Dear Ones:
I can hardly believe it. As of yesterday I have been married for 18 years. I can say I am more in love with my man today than I ever have been. He is without a doubt my closest friend. He, like Jesus, sees everything about me and somehow he still loves me. What a gift it is to be so close to someone. It makes me excited for the future because the years keep getting better and better.
We actually got to go out to dinner just the 2 of us on Saturday. This is the first time we have been alone since baby girl came the first week of June. A family from our church actually volunteered to take on our 6 pack. Such an incredible gift. I can tell you when you have this many kids people don't beat down your door to watch them for you so it was a wonderful God STOP (Savoring The Observable Presence) for us.
As far as the rest of the family is concerned. The boys are having a great start to the new school year. Elijah played in his first Varsity soccer game on Saturday and scored a goal. This is amazing since most of the other players are high schoolers. Not bad for an 8th grader.
Noah is doing a fantastic job on the cross country team. We are looking forward to watching him in action. Canaan and Zion always seem to fit right in at school.
It was so cool on the first day of school when I went to pick them up because big sister was so excited to see them when they got in the van.
We have a home visit with the Guardian ad Litem (not sure if that is how it is spelled) on the 18th for both the girls. So I would love to have the prayer cover for that.
It has really been hard for me not to pray selfishly about the girls. I honestly can not let my mind concentrate on the possibility of them leaving. It zaps the joy out of them actually being here. I am not in denial, I know that is a real possibility, but I just can't focus on it. I feel guilt because I do not want them to leave us. I want them to stay forever. A dear precious friend of mine reminded me about the prayer of Jesus before his crucifixion and it has become my model for prayer about the girls:
"After walking a little farther away from them Jesus fell to the ground and prayed, if possible, he would not have this time of suffering. He prayed "Abba, Father! You can do all things. Take this cup of suffering. But do what you want not what I want."
Mark 14:35&36
I believe GOD CAN DO ALL THINGS, and if he means for them to be ours then they will be. All though the wait and unknowns are still incredibly difficult. So if possible, I am asking for them to be ours. But what he wants not what I want. And if what we want is not the same as what he wants, that he prepare our hearts to accept what He wants.
Well I guess that is about it. Below is a pic from one of my last photo shoots. I just thought I would share it.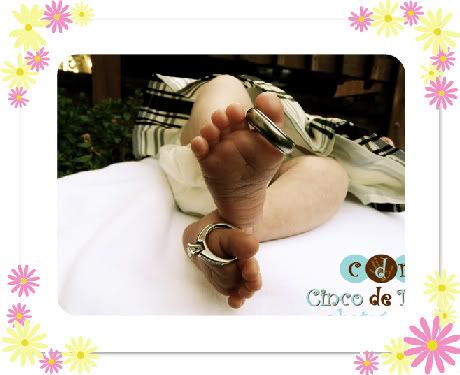 Blessings!